Our Team
People, their knowledge and experience, are without doubt the greatest asset of Oliwska Grupa Konsultingowa. In order to ensure the highest possible quality of services offered to our clients, our consultants have to fulfill strict requirements.
Our consultants are dynamic individuals with great intellectual potential and ability to work in a team. Our HR strategy involves keeping an optimal proportion between the number of long-term and highly experienced employees and younger people with modern education gained in Poland and abroad.
Our consultants come from a wide range of different intellectual backgrounds: economics, law, and also social sciences and technology. This lets us approach the problems of a particular client from a wider perspective and provide holistic solutions. The ongoing professional training and high personal standards of our consultants guarantee the best possible quality of work for our clients.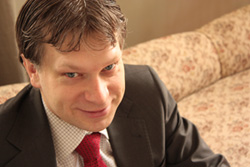 Marcin Kapuściński
Position: Chairman of the Board
Education: Organization and Management
University of Gdańsk, Faculty of Management
Professional experience:
Mr Marcin Kapuścinski has 15 years of professional experience, having actively participated in business processes both as an external consultant and manager in various corporations.
Since 1999 he has been the Head of the Ownership Supervision of Trefl capital group. During this time he has held various functions in management and supervisory boards of the group's companies, directly exercising ownership supervision over the companies.
Since 2000 he has led the Oliwska Grupa Konsultingowa Sp. z o.o.
He also holds managerial functions within the companies of the Oliwska Grupa Kapitałowa and the function of the Vice-President of the Supervisory Board of Ambient − System Sp. z o.o.
Mr Marcin Kapuściński graduated from the Faculty of Management of University of Gdańsk, where he also finished Ph.D. studies.
He is also a member of the Scientific Council of the Scientific Society for Organization and Management in Gdańsk.